What does it mean to be lucky?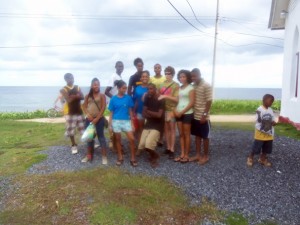 The dictionary describes luck as random, when things happen by chance. Things do seem to happen by chance sometimes…
The race is not to the swift or the battle to the strong, nor does food come to the wise or wealth to the brilliant or favour to the learned; but time and chance happen to them all.
Ecclesiastes 9:11
An athlete can fall during a race, an investor can loose their money when a business fails, a friend can be diagnosed with cancer, while a criminal may escape without being punished.
Equally, good things can happen; people fall in love, cures for diseases are discovered, a job application is successful – but is it all really just luck? Or, is God really in control?
Good luck
God doesn't promise us good luck, in fact the word luck is never mentioned in the Bible. There are no random or chance happenings with God in control. God has a purpose for this world and there is no event in our lives that is not in some way a part of that plan.
I form the light, and create darkness: I make peace, and create evil: I the LORD do all these things. Isaiah 45:7
And we know that in all things God works for the good of those who love him, who have been called according to his purpose.       Romans 8:28-29
The eyes of the LORD are in every place, beholding the evil and the good. Proverbs 15:3
The lot is cast into the lap, but its every decision is from the LORD. Proverbs 16:33
Perhaps instead of wishing our friends "good luck" it would be much better to say "God bless you"
The Lord bless you and keep you; the Lord make His face shine upon you and be gracious to you, the Lord turn His face towards you and give you peace. Numbers 6:24-26
Success
When we wish someone "good luck" don't we really mean that we wish them success, happiness, good health, happy families, contentment and other good things?
That may not seem like a bad thing at all, but it is so easy to let money be the top priority in our lives…
Now listen, you who say, "Today or tomorrow we will go to this, or that city, spend a year there, carry on business and make money." Why, you do not even know what will happen tomorrow. What is your life? You are a mist that appears for a little while and then vanishes. Instead you ought to say, "If it is the Lord's will, we will live and do this or that." James 4:13
We are surrounded by pressure to achieve success, to work harder, earn more money, buy a bigger house, a newer car…
But godliness with contentment is great gain. For we brought nothing into the world, and we can take nothing out of it. But if we have food and clothing, we will be content with that. People who want to get rich fall into temptation and a trap and into many foolish and harmful desires that plunge men into ruin and destruction. 1 Timothy 6:9
God wants us to trust in Him, not in money;
Whoever trusts in his riches will fall but the righteous will thrive like a green leaf. Proverbs 11:28
The LORD makes poor and makes rich; He brings low and lifts up. He raises the poor from the dust and lifts the beggar from the ash heap, to set them among princes and make them inherit the throne of glory. For the pillars of the earth are the Lord's, and He has set the world upon them. He will guard the feet of His saints, but the wicked shall be silent in darkness. For by strength no man shall prevail. 1 Samuel 2:7-9
If we trust in God and try to follow His ways …
God will meet all your needs according to his glorious riches in Christ Jesus. Philippians 4:19
who is able to do immeasurably more than all we ask or imagine, according to His power that is at work within us…   Ephesians 3:20
God's word, the Bible, teaches us His way to find happiness.
Do not let this Book of the Law (Bible) depart from your mouth; meditate on it day and night, so that you may be careful to do everything written in it. Then you will be prosperous and successful wherever you go. Joshua 1:8
Gambling
You may know of people who have lost their homes or their fortunes or their families by gambling, Gambling seems to offer a way to get money quickly and easily but the Bible offers good advice;
Dishonest money dwindles away, but he who gathers money little by little makes it grow. Proverbs 13:11
The love of money is a root of all kinds of evil. Some people, eager for money, have wandered from the faith and pierced themselves with many griefs. 1 Timothy 6:10
A faithful man will be richly blessed, but one eager to get rich will not go unpunished. Proverbs 28:20
Starting over
Jesus told a parable about a rich young man who gambled away all his inheritance and everything that he had. He was so desperate that he found a job feeding pigs and so hungry that he would eat some of the pigs food. You can read about it in Luke 15:11-32.
The young man was afraid to go back to his father's house but when he did he was welcomed with open arms. God is like the young man's father, He's waiting for us to get our priorities right, and willing to forgive us our mistakes if we repent.
The Lord is not slow in keeping His promise, as some understand slowness. He is patient with you, not wanting anyone to perish but everyone to come to repentance.             2 Peter 3:9
Are not two sparrows sold for a penny? Yet not one of them will fall to the ground apart from the will of your Father. Matthew 10:29
We can rejoice, too, when we run into problems and trials, for we know that they are good for us-they help us learn to endure. And endurance develops strength of character in us, and character strengthens our confident expectation of salvation. And this expectation will not disappoint us. For we know how dearly God loves us, because he has given us the Holy Spirit to fill our hearts with his love. Romans 5:3-5
The chance happening of fortunate or adverse events. 2. Good fortune or prosperity; success….to gain success or something desirable by chance: "I lucked out in finding that rare book."
The main question is, do things happen by chance? If they do, then one can speak of someone being lucky or unlucky. But if they do not happen by chance, then it is inappropriate to use those terms. Ecclesiastes 9:11-12 states, "I have seen something else under the sun: The race is not to the swift or the battle to the strong, nor does food come to the wise or wealth to the brilliant or favor to the learned; but time and chance happen to them all. Moreover, no man knows when his hour will come: As fish are caught in a cruel net, or birds are taken in a snare, so men are trapped by evil times that fall unexpectedly upon them." Much of what Ecclesiastes shares is from the perspective of a person who looks at life on earth without God, or life "under the sun." From such a perspective—leaving God out of the picture—there seems to be good luck and bad luck.
A runner in a race may be the swiftest, but because someone in front of him stumbles, he trips over him and falls and does not win the race. How unlucky for him? Or a warrior king may have the strongest army but some "chance" arrow shot up into the air at random by a no-name enemy soldier just happens to pierce his armor in its most vulnerable location (2 Chronicles 18:33) resulting in that king's death and the loss of the battle. How unlucky for King Ahab? Was it a matter of luck? Reading the whole of 2 Chronicles 18, we find that God had His hand in the matter from the beginning. The soldier who shot the arrow was totally unaware of its trajectory, but God in His sovereignty knew all along it would mean the death of wicked King Ahab.
A similar "chance" occurrence takes place in the book of Ruth. Ruth, a widow who was caring for her widowed mother-in-law, seeks a field to glean grain to provide for them. "So she went out and began to glean in the fields behind the harvesters. As it turned out, she found herself working in a field belonging to Boaz, who was from the clan of Elimelech" (Ruth 2:3). Elimelech had been the husband of her mother-in-law, Naomi, so Boaz was a relative of hers and was generous to Ruth. As Ruth returns home with a great deal more grain than Naomi expected, "her mother-in-law asked her, 'Where did you glean today? Where did you work? Blessed be the man who took notice of you!' Then Ruth told her mother-in-law about the one at whose place she had been working. 'The name of the man I worked with today is Boaz,' she said. 'The LORD bless him!' Naomi said to her daughter-in-law. 'He has not stopped showing his kindness to the living and the dead.' She added, 'That man is our close relative; he is one of our kinsman-redeemers.'" (Ruth 2:19-20). So Naomi did not see it as a "chance" occurrence but as the providence of God, as do others later on (Ruth 4:14).
Proverbs 16:33 states a general principle: "The lot is cast into the lap, But its every decision is from the Lord." This refers to the use of casting lots (similar to the tossing of a coin or the rolling of dice) to settle certain judicial cases. The case involving Achan in Joshua 7 is an example in which the principle of Proverbs 16:33 is used to find the guilty party. Proverbs 18:18 states something similar: "Casting the lot settles disputes and keeps strong opponents apart." Again, the idea is that God's providence plays the determining role in the results of the casting of lots so that judicial conflicts can be resolved no matter how great the contention. Proverbs 16:33 would indicate that something as random as the rolling of dice or the tossing of a coin is not outside of God's sovereign control. And, therefore, its results are not merely of chance.
God's sovereignty involves two aspects. God's active will or sovereignty would involve something He causes to happen such as the leading of wicked King Ahab into battle (2 Chronicles 18:18-19). Ahab's death was not merely the result of a randomly shot arrow, but as 2 Chronicles 18 reveals, God actively directed the events that led Ahab into battle and used that randomly shot arrow to accomplish His intended will for Ahab that day.
God's passive will involves Him allowing, rather than causing, something to happen. Chapter1 of the book of Job illustrates this in what God allowed Satan to do in the life of Job. It is also involved in the evil that God allowed Joseph's brothers to do to Joseph in order to accomplish a greater good, a good not apparent to Joseph until years later (Genesis 50:20).
Because we do not have the curtains drawn back to see what is taking place in heaven, we cannot always determine whether God's active or passive will is involved in the events of our lives, but we do know that all things that take place are under the umbrella of His will, whether active or passive, and, therefore, nothing is a matter of mere chance. When a person rolls the dice to play a board game, God may sometimes cause the dice to land a certain way, but more often than not in such inconsequential matters, He may allow the dice to land as His laws of nature would determine without any active involvement. But even when He is not actively involved, how the dice land is still under His sovereignty.
So it is for any event of life; no matter how small (Matthew 10:29-31) or how large (Daniel 4:35; Proverbs 21:1), God is sovereign over all (Ephesians 1:11; Psalm 115:3; Isaiah 46:9-10), and thus nothing is merely the matter of chance.
From an earthly perspective, things may seem to happen at random, but throughout the whole of Scripture, it is clear that God is in control of all of His creation and is somehow able to take the random acts of natural law, the free will of both good and evil men, and the wicked intent of demons and combine them all to accomplish His good and perfect will (Genesis 50:20; Job chapters 1 and 42; John 9:1-7). And Christians, specifically, are given the promise that God works all things, whether seemingly good or bad, together for good to those who love Him and are called according to His purpose (Romans 8:28).
The Bible mentions two specific types of fear. The first type is beneficial and is to be encouraged. The second type is a detriment and is to be overcome. The first type of fear is fear of the Lord. This type of fear does not necessarily mean to be afraid of something. Rather, it is a reverential awe of God; a reverence for His power and glory. However, it is also a proper respect for His wrath and anger. In other words, the fear of the Lord is a total acknowledgement of all that God is, which comes through knowing Him and His attributes.
Fear of the Lord brings with it many blessings and benefits. It is the beginning of wisdom and leads to good understanding (Psalm 111:10). Only fools despise wisdom and discipline (Proverbs 1:7). Furthermore, fear of the Lord leads to life, rest, peace, and contentment (Proverbs 19:23). It is the fountain of life (Proverbs 14:27) and provides a security and a place of safety for us (Proverbs 14:26).
Thus, one can see how fearing God should be encouraged. However, the second type of fear mentioned in the Bible is not beneficial at all. This is the "spirit of fear" mentioned in2 Timothy 1:7: "For God has not given us a spirit of fear, but of power and of love and of a sound mind" (NKJV). A spirit of fearfulness and timidity does not come from God.
However, sometimes we are afraid, sometimes this "spirit of fear" overcomes us, and to overcome it we need to trust in and love God completely. "There is no fear in love. But perfect love drives out fear, because fear has to do with punishment. The one who fears is not made perfect in love" (1 John 4:18). No one is perfect, and God knows this. That is why He has liberally sprinkled encouragement against fear throughout the Bible. Beginning in the book of Genesis and continuing throughout the book of Revelation, God reminds us to "Fear not."
For example, Isaiah 41:10 encourages us, "Do not fear, for I am with you; Do not anxiously look about you, for I am your God. I will strengthen you, surely I will help you, Surely I will uphold you with My righteous right hand." Often we fear the future and what will become of us. But Jesus reminds us that God cares for the birds of the air, so how much more will He provide for His children? "So don't be afraid; you are worth more than many sparrows" (Matthew 10:31). Just these few verses cover many different types of fear. God tells us not to be afraid of being alone, of being too weak, of not being heard, and of lacking physical necessities. These admonishments continue throughout the Bible, covering the many different aspects of the "spirit of fear."
In Psalm 56:11 the psalmist writes, "In God I trust; I will not be afraid. What can man do to me?" This is an awesome testimony to the power of trusting in God. Regardless of what happens, the psalmist will trust in God because he knows and understands the power of God. The key to overcoming fear, then, is total and complete trust in God. Trusting God is a refusal to give in to fear. It is a turning to God even in the darkest times and trusting Him to make things right. This trust comes from knowing God and knowing that He is good. As Job said when he was experiencing some of the most difficult trials recorded in the Bible, "Though he slay me, yet will I trust in him" (Job 13:15 NKJV).
Once we have learned to put our trust in God, we will no longer be afraid of the things that come against us. We will be like the psalmist who said with confidence "…let all who take refuge in you be glad; let them ever sing for joy. Spread your protection over them, that those who love your name may rejoice in you" (Psalm 5:11).